This is a functionality that extends the WP Job Manager – Applications add-on and adds applications via LinkedIn Profile.
Note: Without the Applications plugin you will NOT be able to use this feature.
Creating LinkedIn App
Step 1 – Go to the LinkedIn Developer site and create a new app.
Step 2 – Fill in all the details and click on create app.
Step 3 – Make sure to verify your company.
Step 4 – Configure the auth redirection settings. Go to the auth tab and click on the pencil next to the redirection settings. Make sure the redirection URL is your home page URL.
Make sure your URL has a "/" at the end, otherwise it will not work and LinkedIn will show a "broken page".
Example: https://my-site.com/

Step 5 – Adding APP permissions. Click on the products tab and select Sign In with LinkedIn, check the agreements and add product. By adding this product you will have all the required permissions.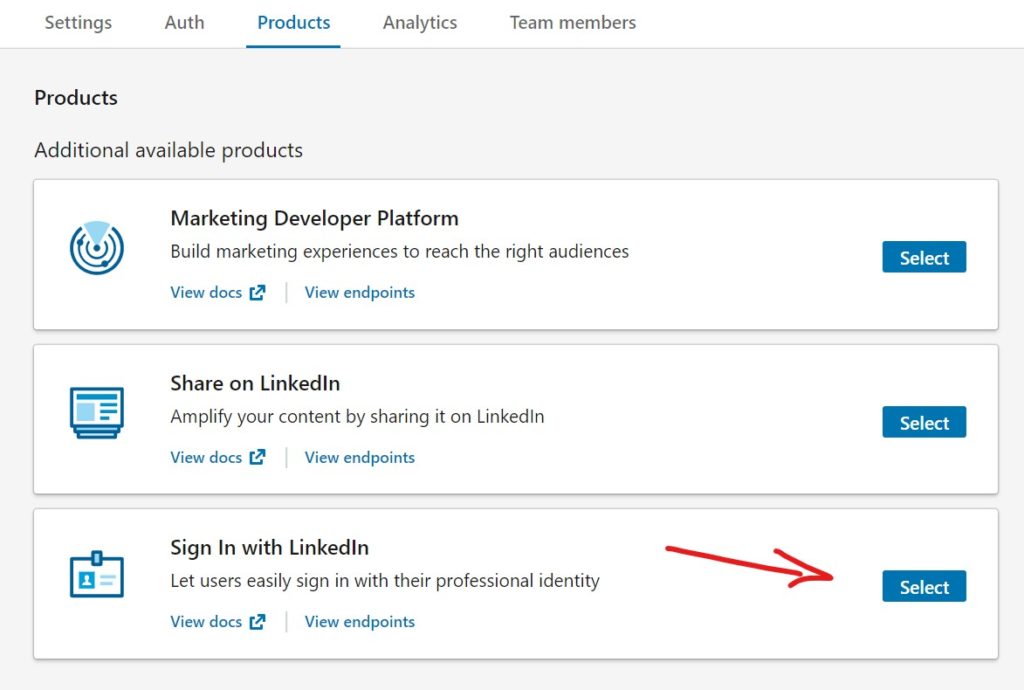 Configuring Plugin Settings
Step 1 – Go the Auth tab where we left of on our LinkedIn app and copy the Client ID and Client Secret.
Step 2 – Let's go to our WordPress site now. "WP Dashboard -> Job Listings-> Essential Settings -> Applications", paste in the LinkedIn: Client ID and LinkedIn: Client Secret, make sure the checkbox is checked and click on Save Changes.
If everything has been set up right you will see the "Apply with LinkedIn" button in the single job pages. Once clicked you will be redirected to login in with LinkedIn first and then redirected back to the job page. The application will be sent just like a normal application sent by WPJM Applications and can be found via the Job Dashboard page.